Tokyo is one of my favourite cities in the world - the food is amazing, the people are incredibly nice and the natural landscape (even though you will probably have to travel down to Hakone or Nikko) is equally stunning as well. Even though I was in Tokyo only a couple of months ago, I revisited it last month to feed my inner demon for quality Japanese food. There are more than ten flights that connect Singapore to Tokyo on a daily basis but since I was utilising my AS miles for Japan Airlines, I chose to begin my trip from Kuala Lumpur (although I nearly missed my flight but that is a story for another time) instead.
Click HERE to check out my flight from Kuala Lumpur to Tokyo in JAL's Business Class!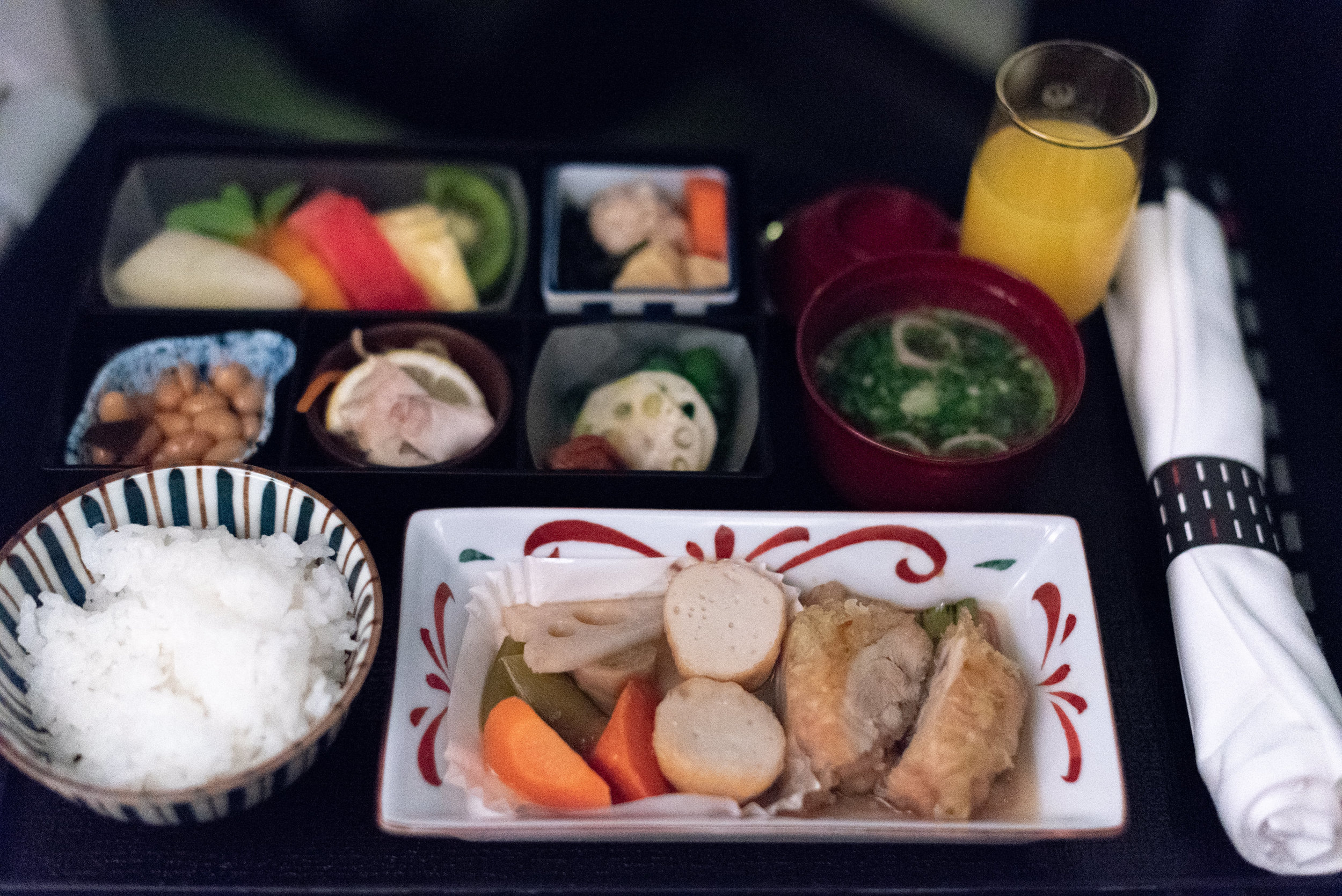 Japan Airlines Business Class
Since I no longer have any significant elite status in the World of Hyatt program, my seven-night booking at the Hyatt Regency Tokyo was in a Regency Club Room since they were significantly larger than the lead-in room type and having breakfast as well as drinks in the evening were both things that I valued a lot during a stay. Now I have to say this from the start - I have spoken to many people about the Hyatt Regency Tokyo and many of them have actually stayed in the lead-in room type which is apparently really dated and small. However, the Regency Club Rooms here have only been refurbished a few years back so they actually look very good.
A typical room night here in the Hyatt Regency Tokyo (or any branded hotel in Tokyo for that matter) does not come cheap but I always tend to justify my spend if they belong to a larger international hotel chain with a solid loyalty program since the number of points that you earn are dependent on how much you actually spend. The BAR for a Regency Club Room here is ¥42,000 (SGD 514) per night before taxes so a week here can cost around S$4,000. Getting from Narita International Airport to the Hyatt Regency Tokyo is fairly easy if you take the airport limousine bus - the trip will cost you ¥3,100 (SGD 38) each way and the journey should take up to two hours. In reality though, the journey only took approximately 85 minutes so I guess it really depends on the traffic conditions as well as the number of stops that the bus will be making.
When I got to the Hyatt Regency Tokyo at approximately 11:00AM (since I had to wait for my luggage which was on another flight at the airport), I was informed that the hotel was fully-booked the previous night and therefore, my room is not ready for an early check-in. I requested to store my luggage in the hotel and also to use the shower facilities in the gym to freshen up - this was arranged promptly and I can't describe the feeling of taking a nice warm shower after traveling on an overnight flight. When I got back to the property at approximately 3:00PM, my room was ready and since I have already completed the check-in process earlier that the morning, I was quickly handed my room keys as well as some breakfast vouchers (more about this later!) that I could utilise throughout my stay.
The Regency Club Rooms here at the Hyatt Regency Tokyo are 35sqm in size (this is significantly larger than some of the lead-in rooms which are around 24-28sqm) and they have been refurbished fairly recently. Since the Hilton Tokyo is practically located across the road, I would like to draw some comparisons to it throughout this review so people can make a more informed decision as to where to stay. The Regency Club Rooms here at the Hyatt Regency Tokyo are very nice and they are bigger (about 5sqm more) than the Executive Rooms over at the Hilton Tokyo. While most seasoned-travellers would associate club rooms with rooms located on a higher floor, this is not the case here at the Hyatt Regency Tokyo - the Regency Club Lounge itself is located on Level 9 of the hotel.
Complimentary WiFi is provided for hotel guests and the Regency Club Room here at the Hyatt Regency Tokyo comes with a massive work desk that fits not only my personal belongings, my laptop but also a bunch of welcome amenities. I got some fruits and cookies as my welcome amenity - there is also a perfectly-folded origami crane by the side (which I can never figure out how to do for the life of me). There are two power sockets here in front of the work desk but they are not universal so international travellers should aim to bring an adapter along with them (otherwise, I am fairly certain the hotel will be able to loan you one for free).
The Regency Club Room is beautiful and honestly, this could be my favourite Hyatt Regency property ever - I love how cosy and warm (in terms of the colour scheme) the room feels but more importantly, the room lights can be adjusted for the right occasion - they can also be dimmed if you do not want them to be exceedingly bright. Even though the window might not necessarily be the largest, having that burst of daylight and that chair by the window is perfect.
Some of the Regency Club Rooms actually look out to the park as well as the famous Park Hyatt Tokyo from a distance. One of the most important reasons as to why I actually chose to stay at the Hyatt Regency Tokyo this time was because I had to be in Shinjuku Park Tower for a few days (related to work). Unfortunately, since I was traveling on my own accord, I had to pay for my own accommodation since work only covers when I am sent to a city for work (which I think is fair enough).
Hotels in Japan are fairly strict about the occupancy of a room so if you are staying with a friend, make sure you book the room for two adults (even though a dual-occupancy rate may sometimes be higher than a single one). Since I was staying alone, I opted for a king-size bed and it was really comfortable. Now some travellers may probably find the bed a little firmer than expected but I thought that it was perfect! The pillows located on the bottom (the firmer one) have some kind strange filling on the underside (which felt like beans to me) but they were great at providing neck support. I have had excellent sleep quality here throughout my stay and the automated blinds do a great job at keeping the light out in the morning (not a good thing when you actually do have to go into the office since it makes it that much harder to get up).
There is a small panel by the side of the bed where you are able to control things like the in-room lighting (you can even dim and brighten the lights based on your own personal preferences) as well as the automated day and night blinds.
As you can see from the photo above, the Regency Club Room here at the Hyatt Regency Tokyo is really quite large (as far as hotels in Shinjuku are concerned). The glass window that separates the bathroom and the bedroom creates an even greater sense of space since you will never feel like you are trapped (even while you are taking a bath). Of course, should there be a need for privacy, the automated blinds can always be lowered. The blinds are located on the inside of the bathroom and the reason why I am saying this is because I have been to a number of hotels over the years where the blinds are located outside of the bathroom (one even have the switch located outside!).
The bathroom of the Regency Club Room is beautiful and it is infinitely better than the bathroom of the Executive Room at the Hilton Tokyo (which I really hope is going to go through some sort of refurbishment). There is a massive bathtub as well as a separate shower area by the side so the wet area of the bathroom is actually contained - I love it when the layout makes sense! Here's a tip for all you bath-lovers - Lush is actually cheaper in Tokyo (as compared to Singapore) so make sure you stock up on all those bath bombs and bubble bars!
I also received three bath towels (and they were religiously replaced) each day) even though I was staying on my own. There is only a single sink here in the bathroom and the drawers underneath (where the towels are) can be moved outwards for easier access.
As you would expect, the toilet of the Regency Club Room comes equipped with the famous Toto Washlet (in fact, you can also find a less elaborate version of this on Japan Airlines flights). Unlike the Andaz Tokyo where I stayed earlier this year, you will have to lift the toilet seat up yourself here.
Similar to my stay at the Hyatt Regency Danang Resort and Spa last year, bath amenities here at the Hyatt Regency Tokyo are provided by Pharmacopia which utilises eco-friendly ingredients and environmentally-friendly packaging. These were replenished without a hitch throughout my stay and honestly, I think that I have gotten the most thorough housekeeping in Tokyo across all my travels.
The Regency Club Lounge of the Hyatt Regency Tokyo looks fairly dated and if you were to compare it to the Executive Lounge of the Hilton Tokyo, the latter one looks a lot better. However, with that being said, I did prefer my evening cocktails and canapes at the Hyatt Regency Tokyo more. On a separate note, according to some chatter on FlyerTalk, it appears that a planned renovation of the lounge is slated to take place from July to September 2018 (and apparently club rooms are blocked during that period as well) so do keep that in mind if you are planning to visit then.
On the first night that I visited, the Regency Club Lounge was really busy during evening cocktail hour but there area seats located towards the back of the lounge. There is even a smoking room where hotel guests can enjoy a beer and a cigarette indoors (perculiar but I guess a lot of older Japanese guests expect these kind o
Even though no Champagne is served during evening cocktail hour, there is a rather decent selection of wines offered - there is also cava if you are really craving for something sparkling. I have found this area to be the most popular in the whole club lounge amongst hotel guests. There are little pockets of space that are semi-private and you can often see solo travellers taking these spots up (usually with their laptop!).
I have not been to too many Hyatt Regency properties by the food selection here at Hyatt Regency Tokyo during evening cocktail hour may seem fairly unimpressive to travellers who have been to resort properties like the Hyatt Regency Danang Resort and Spa as well as the Hyatt Regency Phuket Resort. There is a small selection of cheese and crackers as well as some light bites on the side (chips and nuts) for hotel guests to enjoy. Cocktail hour here at the Regency Club Lounge of the Hyatt Regency Tokyo runs from 6:00PM to 8:00PM daily - if you wish to bring a friend, you may do so at a special rate of JPY 2,970 (SGD 37).
Since I already had dinner plans to meet some friends in Shinjuku, I opted for some cheese, crackers and a G&T. While I was enjoying my beverage, one of the friendly lounge staff approached me with a menu of two choices - apparently, I could choose between them and it would be served to me on an a la carte basis. I do believe that each guest can only order it once however so don't rely on it if you are thinking about having a light dinner in the Regency Club Lounge. In any case, you are right smack in Nishi-Shinjuku - there is a plethora of restaurants to choose from (there is even a Denny's down the road if you are feeling up for some American food).
While I did not choose to have the hot canapes that night, I managed to try it on two out of seven nights that I was there. On both occasions, a platter of four different items were served and I love the fact that the lounge staff actually takes time out to explain what each one of them is - I really enjoyed the battered fish but honestly, I do not think I have ever had fried food and disliked it.
On another night, I was given a braised beef (which was delicious!), a crab salad as well as kazunoko (marinated herring roe) - that was the best 'a la carte' dish that I have had in the Regency Club Lounge during my stay. I am not sure whether the rumours pertaining to the club lounge renovation are true and if they are, I do not know whether they will change the way food is being offered during evening cocktail hour
As a Regency Club guest who is staying at the Hyatt Regency Tokyo, I was given the option of having breakfast at one of three locations - the Regency Club Lounge, Kakou (Japanese Breakfast) and Caffè (Buffet Breakfast). On the first morning, I chose to have my breakfast at Kakou and was thoroughly impressed by the food and service rendered there. In fact, just to show you how much I actually like that place, I actually ate there on four out of six visits (I still have one breakfast voucher since I actually went back to the Andaz Tokyo for breakfast on one day). Breakfast here at Kakou is served from 7:00AM to 10:00AM only so if you are one of those hotel guests who stroll in to the restaurant only 10 minutes before closing, Kakou might not be for you (even though you should really get up earlier because the food is delicious). Diners here at breakfast are given a simple choice of either Japanese rice or porridge - the rest of it stayed pretty constant throughout my stay but the restaurant manager who recognised me after eating there consecutively for a couple of days served me something special on my last day. Also, that onsen egg is just ridiculously good - put it over the Japanese rice and break it for best results.
Even though I really had zero desire to check out Caffè for breakfast (not because it is not good but because the Japanese breakfast at Kakou is phenomenal), I decided to head down one morning simply for the sake of this review. Hotel guests who have booked a breakfast-inclusive rate here at the Hyatt Regency Tokyo would have been given a breakfast voucher (one for each day) during check-in and you will have to provide it here when you enter. I am not certain whether Globalist members get to enjoy the full buffet breakfast selection so it is definitely a good idea to check if that matters to you.
To my surprise, the breakfast selection at Caffè is actually pretty impressive as well - the omelette is extraordinary and I actually did go back on another morning just because I was craving for that omelette. There is also a small selection of Japanese food items here at breakfast but it pales in comparison to what you get at Kakou.
The Hyatt Regency Tokyo really impressed me from start to finish. Right from the moment that I stepped foot into the property, I felt like a guest who is genuinely welcomed (and not just because I have paid to stay here). The level of coordination from the front office to the gym (where I took a shower when I first arrived) is impressive and everything else in the property seem to run like clockwork. The housekeeping staff does any amazing job each morning at refreshing the room - everything is replenished without fail and when I asked for additional water on one morning, I was given five (instead of the usual two) bottles for the remaining nights of my stay. The breakfast at Kakou is excellent but more importantly, if you are looking for a comparatively-affordable hotel to stay in in Shinjuku, it doesn't get any better than this. At just 12,000 World of Hyatt Points for a free night here, the Hyatt Regency Tokyo is a steal and an excellent property to burn your points at. Sure, it may not be as glitzy as the Park Hyatt Tokyo or as fantastic as the Andaz Tokyo but at fraction of the price, you really are getting a great experience here at this property.
Hyatt Regency Tokyo
2-7-2 Nishi-Shinjuku, Shinjuku-Ku, Tokyo, Japan, 160-0023
Website | Email