When I visited Shanghai last year in November, I decided to check out Hangzhou as some friends told me that spending a week in Shanghai was a bad idea and there would be nothing for me to do there (they were wrong). My flight on Singapore Airlines in Business Class was nothing short of amazing - the crew actually surprised me (knowing that it was my birthday weekend) on the flight! Even though I wanted to visit Hangzhou, flying direct from Singapore was not an option for me since there were no respectable airlines (there is only Scoot but let's be honest here) that operated between these two cities.
Click HERE to read my review from Singapore to Shanghai on Singapore Airlines!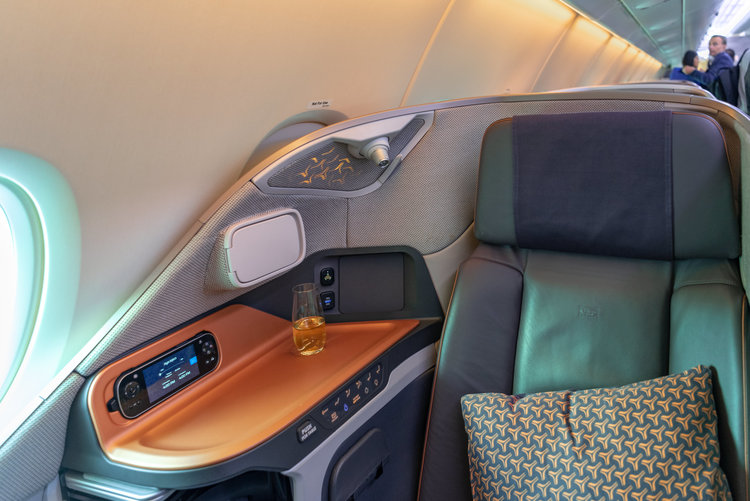 Singapore Airlines Business Class
I stayed at the Andaz Xintiandi, Shanghai for the first part of my trip and I actually paid someone from the hotel to go pick up the train tickets from the train station for me - I believe the concierge charged me CNY 100 (approximately S$20) for this service. The train tickets from Shanghai to Hangzhou were relatively affordable and I believe I paid only S$30 one-way for a First Class ticket.
The train ride was relatively comfortable and it took me directly to Hangzhou East Railway Station where I stood in line for almost 45 minutes waiting for a taxi (you might be better off on the train if you are rushing for time). When it was finally my turn, I got ushered into a rather shabby looking taxi so I would personally think about arranging private transport the next time I go to Hangzhou. After roughly 20 minutes, my taxi pulled up along the driveway of the Park Hyatt Hangzhou but strangely the doormen were not at all interested to take my bags or show me the way to the lobby. Obviously, this resulted in bad first impressions of the property for me as a paying customer.
Fortunately, everything changed once I actually got to the lobby of the Park Hyatt Hangzhou. Located on level 37 of the property, the lobby is actually stunning - the Living Room wraps around the lobby and it offers panoramic views of the city as well as West Lake from a distance. Even though the weather was not great when I visited, I really enjoyed basking in this naturally-lit social space (with stunning five-meter-high windows!) while waiting for my room to be ready. I have booked the Standard Rate (flexible) on this stay and knowing that it was my birthday weekend, the hotel has graciously upgraded me into a Deluxe Riverview King.
Measuring 63sqm in space, the Deluxe Riverview King here at the Park Hyatt Hangzhou features floor-to-ceiling windows with views of the Qiantang River. This corner room offers expansive 270-degree views of the surroundings and even though the weather was rather terrible when I visited, it was nice having that much natural daylight. The interiors are beautiful and I hate to say this but my favourite aspect of this room is actually the work desk. That beautiful and spacious wooden table located between the bathroom and the bedroom is the perfect place to chill out in the day with a glass of wine while working on your laptop. There is also a small station that is integrated in the desk towards one end where you will find a universal power socket as well as USB charging ports for your portable electronic devices.
Even though I did not have any significant status with the World of Hyatt program and this is simply a normal reservation with no additional perks, I received a plate of fresh fruits and a bottle of red wine as part of my welcome amenities (possibly due to my birthday).
The plush king-size bed here in the Park Hyatt Hangzhou is incredibly comfortable and getting up early will be a challenge. There is a bluetooth speaker from Bose located by the side of the bed and it comes with an in-built battery so feel free to take it along with you when you enjoy a deep soak in the tub (more on this later!).
Right next to the bed is where you will find all the controls for room lighting - you will also be able to control the day and night blinds from the comfort of your bed here. The weather in Hangzhou was terrible during my visit so even though the view from the bedroom is supposed to be rather impressive, I was not fortunate enough to see it during my stay.
Consistent to the brand image of Park Hyatt, you will not find an executive lounge here at the Park Hyatt Hangzhou so having a proper Nespresso machine in your own room makes all the difference in the morning and in the afternoon when you are struggling to stay awake. As you would expect, the minibar in the Deluxe Riverview King Room is fully-stocked and you will be able to find a selection of beverages (chargeable) here. Drinking water (provided in plastic bottles) are provided throughout the room and you can always request for more (at no additional charge) if that is something you desire.
I am personally not familiar with the brand of tea that is offered in the hotel room but I tried the longjing (dragon well) tea during my stay and it was fantastic! Additionally, I noticed that a number of luxury hotels in China also provided tea from this particular brand so I would expect it to be above average at least (please feel free to let me know what brand it is and I will update this accordingly!). Nespresso capsules are also provided in the drawer within the minibar and they are replenished every evening during turndown as well as in the morning when you room is made up.
The bathroom of the Deluxe Riverview King is also extremely impressive (especially if you like marble) - it features a clean and modern design but most importantly, I love how the natural light reflects off the marble in the day. There is a double vanity sink and if you notice, the two mirrors in front of the sinks are actually different - one is a (somewhat) lighted mirror which is probably better for makeup while the other mirror (which is longer and fuller) allows you to check your outfit before heading out.
To the left of the bathroom is where you will find a toilet from the world's famous Japan toilet bathroom product maker, TOTO. To the right is where you will probably (and hopefully!) spend most of your time in - the marble bathroom may be beautiful but having a deep-soaking tub right next to the glass window made all the difference! Just make sure to shut the blinds if you are taking a shower (or a soak) as the property is fairly close to an office building.
Bath amenities here at the Park Hyatt Hangzhou are provided by Le Labo (unlike the ones that I have gotten back at the Park Hyatt Siem Reap which were provided by Cochine). These bath amenities features Le Labo's signature Bergamot 22 fragrance and they smell amazing!
The Deluxe Riverview rooms (63sqm) here at the Park Hyatt Hangzhou are all corner rooms and therefore, they are comparatively larger than a normal Riverview room (55sqm). While that additional 8sqm of space might not sound like a lot on paper, it certainly made all the difference when it came to the view. Being placed in a corner room meant that I was able to enjoy the 270-degree view as well as natural daylight throughout the day. It goes without saying that having more windows already made the room feel and look larger than what is actually is.
The team over at the Park Hyatt Hangzhou has also arranged for a birthday cake to be delivered to my room. It is always small gestures like these that make a guest feel appreciated.
Now I did not manage to get a nice view from the room during my stay at all - the weather was extremely gloomy and it actually rained a number of times while I was there. On one night, the weather cleared up a little in the evening and I actually managed to get a shot from the window which somehow captures the property's surroundings. On a clear day, you should expect to see the famous Qiantang River from your bedroom and you can even see all the futuristic-looking buildings from afar. One of my favourite buildings in Hangzhou is the InterContinental Hangzhou which is apparently designed to look like the sun (the moon building is located directly across from it but I will leave it up to you to look up on this interesting 'fengshui' piece).
As mentioned earlier, I do not have any significant status in the World of Hyatt program so therefore, it was imperative for me to book a breakfast-inclusive rate for a full property experience. Breakfast is served in Forty8 which is the property's all-day dining restaurant - the casual restaurant features fresh seafood, grilled meats, Italian as well as region Chinese cuisines in the afternoon as well as in the evening.
As far as I remember, I do not believe an a la carte menu was offered and the food were pretty average - I did however enjoy the traditional homemade pancake (also known locally as Shaobing) during breakfast which was made to order. In any case, you should definitely be saving your stomach space for 'real' food outside!
The service over here at the Park Hyatt Hangzhou hasn't been particularly impressive - staff did not take initiative to help with luggage upon arrival and most staff would avoid making eye contact in the public areas - but the interiors are beautiful and I actually love the malls nearby! If you are a first-time visitor to Hangzhou and you only have a couple of days to spend, the Park Hyatt Hangzhou is probably not located in the best area to do all the famous sights (e.g. West Lake) but if you do not mind traveling and would like to experience this beautiful property, I highly recommend it since the price is actually really reasonable. Unfortunately, the Park Hyatt Hangzhou does not participate in the Fine Hotels & Resorts programme by American Express so if you are looking for a FHR property, you will have to stay at either the Conrad Hangzhou or the Four Seasons Hotel Hangzhou at West Lake.
Park Hyatt Hangzhou
No. 1366 Qianjiang Road, Hangzhou, Zhejiang, China, 310020
Website | Email