Singapore Airlines and Air China operate multiple direct flights between Singapore and Beijing each day. When I visited Beijing in November, I flew on flight SQ802 in Suites from Singapore to Beijing and was completely won over by the service - the Krug 2004 served onboard helped plenty too! Having visited Beijing earlier in July this year, I was really excited to head back since my previous visit was during the summer and the weather looked a lot more comfortable in November.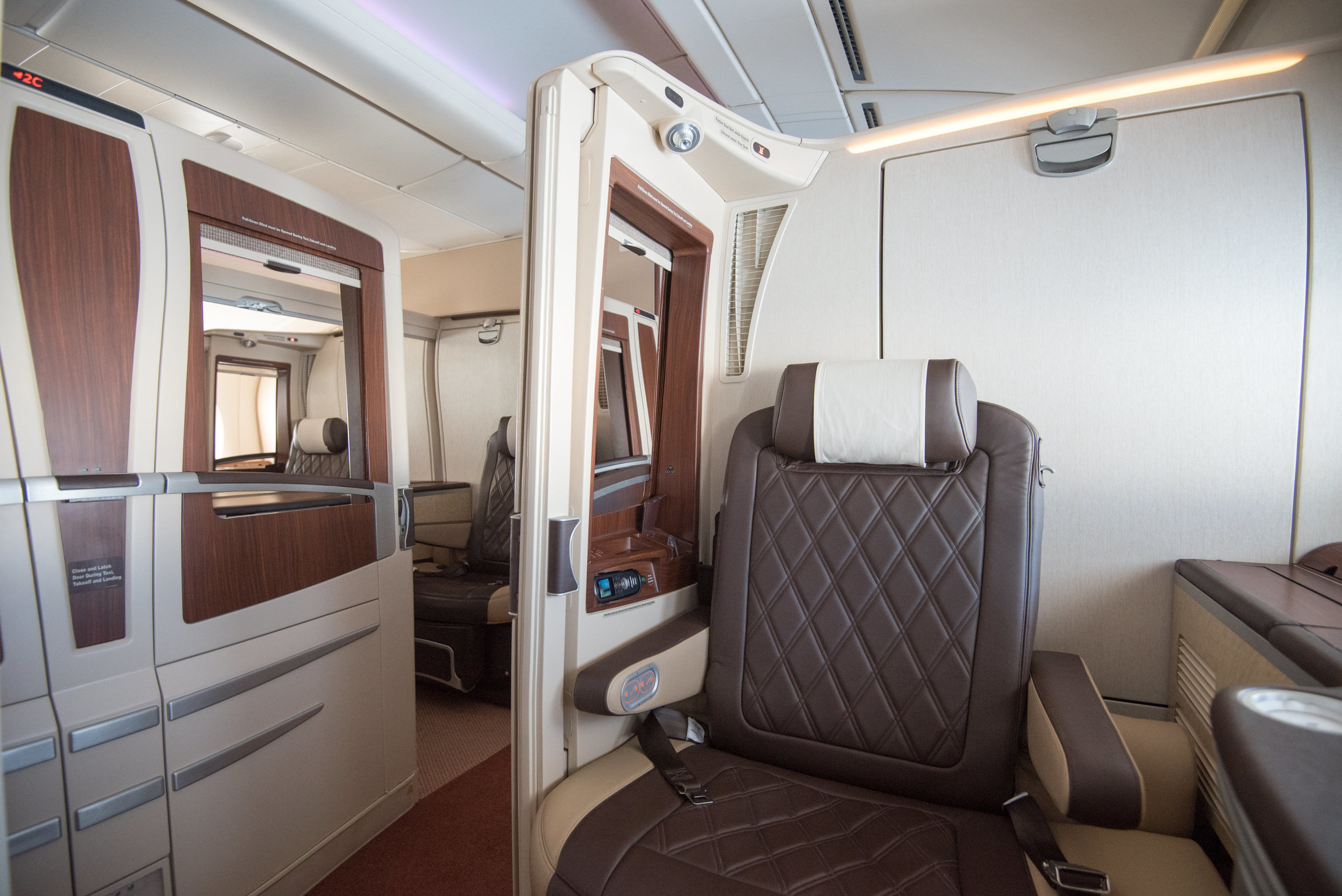 Singapore Airlines Suites
I took advantage of the Hilton China Summer Sale back in July and actually managed to snag up a Junior Suite at the Conrad Beijing at a reasonable rate. While I did not need to book a suite or an executive room in order to gain access to the Executive Lounge (all thanks to my Hilton Honors Diamond status), I wanted to be sure that I was staying in a suite for this visit as I would be celebrating my birthday then. Upon arriving at the Conrad Beijing after a really long car ride (the traffic is horrible on a Friday evening so make sure you keep this in mind if you intend to arrive in Beijing on the same day), I realised that my reservation has been given a one-category upgrade into the Executive Suite (a part of me was secretly hoping that the Presidential Suite would become available). In case you are wondering, you can easily find a taxi rank outside the terminal building where you will be able to hop on a taxi that will take you to the Conrad Beijing for approximately CNY 100 to CNY 120 (SGD 20 to SGD 25) - this is what I chose to go with. Alternatively, a hotel limousine can be arranged for approximately CNY 750 (SGD 150).
When I got to the Executive Suite that I was upgraded into, I was grinning from ear to ear - it was absolutely beautiful! International travel is tiring regardless of cabin class (flying Suites did make it a whole lot more enjoyable though!) and I was just happy to be in the hotel instead of being on the road. In fact, looking out of my living room of the Executive Suite made me realise that the congestion on Third Ring Road (where the Conrad Beijing is located on) has not eased off at all. I did not really bother to take any photos of the suite since it was already very dark but more importantly, I was already feeling really hungry. I wanted to venture out to a restaurant that was recommended to me but since I was also a little tired, I decided to settle for one of the local restaurants nearby selling lamb stew and skewers before heading to bed shortly after that.
Since I already have a lunch reservation at one of my favourite restaurants in Beijing (I will share more about this in a separate post) which serves up delicious Sichuan cuisine, I decided to head up to the Executive Lounge for a lighter breakfast in order to save room for more food later on. As one would imagine, there is a much smaller crowd in the Executive Lounge - in fact, there were only three more guests apart from myself.
There is a small continental spread here in the Executive Lounge during breakfast and there is also a small a la carte menu that you can order from. In case you are reading this on your trip and you are trying to find out where to have your breakfast, go downstairs to Chapter (which is the all-day dining restaurant of the Conrad Beijing) for a much more impressive spread. While the breakfast over at the Executive Lounge is really nothing to shout about, the staff here were amazing. In fact, I feel so ashamed that I did not actually make a note of the name of this particular lady who helped me with the coordination of the Great Wall of China visit. I have actually made a prior booking with a local tour operator but they did not get back to me on the specifics of the tour - I did not know where and what time to meet - and this staff in the Executive Lounge actually took time to track him down, give him a call, and then left a message in my suite telling me the exact time and location to be.
When I got back to my suite after breakfast, I was ready to take the photos necessary to write this trip report. Seriously, I cannot get over how great this deal was - I paid around CNY 2,000 (approximately S$400) a night for this Executive Suite at the Conrad Beijing. As you walk in to the Executive Suite, the toilet is located on the side and it is also connected to the larger bathroom and bedroom. If you walk straight, you will find yourself in the massive living room of this suite. Measuring approximately 88 sqm to 94 sqm in size, the Executive Suites here at the Conrad Beijing comes with a view of the Tuanjie Lake as well as the city (you can even see the iconic CCTV Headquarters).
The Living Room of the Executive Suite is probably my favourite area in the whole suite and trust me when I say that I do not think this often - my favourite area is usually the bathroom or the bedroom. The Conrad Beijing is designed by MAD Architects and the sinuous casing on the building's exterior reflects a a freeform structure that is softened by the rigidity of the city. In fact, the property's irregularly-shaped windows are so iconic that people typically recognise the hotel simply by looking at the windows alone.
In the living room, you will find a basic Nespresso machine (good enough for me!) with six complimentary Nespresso pods - these are replenished twice daily during evening turndown as well as in the morning. Plenty of complimentary drinking water is also provided throughout the suite and in the event that you do not have enough (even though it is highly unlikely), you can simply request for more by picking up the phone or using the Concierge feature in the Hilton Honors app. Teabags from TWG are also provided in the suite and they are also replenished throughout the stay.
The Living Room of the Executive Suite comes with a massive sofa that is large enough to sit five adults very comfortably. There is also a 52-inch LED TV here which comes with a wide selection of local and satellite channels for your enjoyment. If you are here for work (of if you travel with a personal assistant), there is a large working desk here for you to get things done. Since I had my Hilton Honors Diamond status, Premium WiFi is provided free-of-charge but otherwise this may be chargeable if you do not hold any elite status with the program. I believe standard WiFi is complimentary if you book directly with Conrad Beijing regardless of your status level.
If you do intend to get work done, there is a range of connectivity options by the side of the work desk so you can even get your presentation up on the big screen if required. I am just personally happy with the USB charging port as well as the universal power outlets. If you are looking to access Facebook, Instagram, Google or any of those blocked sites here, do note that you will require a VPN and I do have a guide on how to access blocked sites in China here.
There is a sliding door that opens up to the bedroom of the Executive Suite - this can be locked in case you have visitors over in your suite and you do not want them snooping around in the bedroom. The curtains and blinds are completely automated so all you have to do is to push a button and simply wait. If you are concerned about the air quality in Beijing, you would be very happy to know that there are two Blueair Classic 510B air purifiers in the room - one in the living room and one in the bedroom. Since each one of them is good for 54sqm of space, you are very much covered in the living areas of the Executive Suite.
In case you were wondering what was on the table of my Executive Suite, it was basically a birthday cake that the Conrad Beijing has prepared for my birthday (I actually spent my birthday last year in Conrad Tokyo and was given a far less impressive welcome). I did find it strange that they did not include a fruit bowl since that was pretty much standard across all the Conrad hotels that I have visited - no issue but just an observation.
The bedroom of the Executive Suite is connected via the living room as well as the bathroom - the entire Executive Suite is connected in a somewhat circular manner. The Executive Suite here at the Conrad Beijing features a king-size bed with plush bedding. There is also another TV here in the room which is adjustable so you do not have to go out to the living room just to watch TV. There is also a lounge sofa by the window for you to take in the views of the Tuanjie Lake as well as the surrounding area.
The bed here in the Executive Suite of the Conrad Beijing was pretty amazing and I was really impressed by the overall temperature control of the suite - it was never too cold in the morning and the HVAC seemed to work perfectly. Seriously, I was over at the Hilton Auckland a couple of weeks ago and even though it wasn't even half as cold as Beijing, I have actually woken up feeling extremely cold (reminds me of college days, really!).
I found two Conrad Beijing Panda Bears on the bed of my Executive Suite the day I checked in and like always, you can actually bring these home at no additional charge - they make perfect gifts for little ones! I really like how the Conrad Beijing has decided to use the panda bear instead of a regular teddy bear (which is more commonly found in other properties like the Conrad Centennial Singapore and the Conrad Tokyo) here since it bears more significance (no pun intended).
A small part of the bedside table folds out to reveal additional controls for the light as well as curtains (yes they are automated in the bedroom too!). To be honest though, I have found the controls to be fairly confusing and even after spending five nights in the Executive Suite, I still wasn't sure which button corresponded to which light(s).
As mentioned earlier, the bedroom of the Executive Suite connects to the bathroom as well - there is a sliding door here for privacy. I really like how much daylight the entire Executive Suite enjoys and it is beautiful to look out to some iconic buildings on a clear day.
The bathroom of the Executive Suite comes with double vanity sinks, a hidden TV in the huge mirror as well as a deep-soaking tub by the window for you to take in the amazing sights while enjoying a good soak. There is also a small rubber duck here that you can take home and bath salts are provided to help you relax further.
Bath amenities in the Executive Suite are provided by Aromatherapy Associates by default but you can always request for alternative ones either on the phone or via the app - I hear Shanghai Tang will soon become the default amenity choice across Conrad hotels around the world but who knows?
I know a lot of people do place increasingly less value on the existence of a tub but I for one love a good soak after a long day out (especially after that long walk on the Great Wall!). Having a bathtub and a separate shower area is crucial (at least for me) in every good suite. You can also see one of the other air purifiers tucked away between the sofa and the bathroom - these air purifiers have adjustable settings so you can adjust them as you deem fit (honestly though, it is highly unlikely that you will be getting any of that pollution from the outside).
Evening cocktails are served at the Executive Lounge for all Hilton Honors Diamond members as well as guests staying in executive rooms and suites from 5:30PM to 7:30PM. During my visit, I have found the selection of food to be average at best - there were a number of hot food items but I don't think these are sufficient unless you are a really tiny eater. The drink selection was pretty decent and you will find a small selection of wines (including wines from China!), spirits as well as beer in the fridge.
While there was a rather decent selection of liquor and spirits, I found it strange that the Executive Lounge ran out of gin one night and did not replace it on subsequent nights - this was the first time that I have encountered an executive lounge running out of spirit!
Having checked out the Executive Lounge for breakfast the previous morning (and also because someone suggested for me to check out Chapter instead on Instagram), I decided to head down to the all-day dining restaurant, Chapter for breakfast instead. Before I say anything else, I have to say this - if you are staying at the Conrad Beijing, forget the Executive Lounge's breakfast and check out Chapter instead!
Breakfast runs from 6:30AM to 10:30AM daily with the exception of Sunday (11:00AM) and the restaurant in designed in a way that it looks like a library (hence the name!). I love the wall of books as well as that grand staircase (that you can actually use to get to another floor) that reminded me of an European library. Throughout my stay, I did not find the restaurant to be exceedingly crowded and I was always given a table immediately so I am not too sure if the restaurant is built to accommodate a lot of guests or I was simply staying over an off-peak season.
Unlike the Executive Lounge, you will actually find a huge selection of food here and they are all pretty good surprisingly. I also love how well thought-out the space is - it did not feel crowded at all (unlike the Hotel Jen Beijing during breakfast) even though there were plenty of diners during my visit. In fact, I was really impressed to find an a la carte menu here in the main restaurant since these are generally reserved for Executive Lounge guests!
The food in the steam baskets are also actually hot (as compared to the ones in the Executive Lounge) so I don't see why you would choose the other location over this for breakfast (unless it is extremely crowded and you are rushing for time). The staff in the restaurant were also incredibly nice and I like how they actually attempted to speak to me in English first instead of simply assuming that I spoke Mandarin (even though I do) since I am Chinese.
The Conrad Beijing took me by surprise and while I expected it to be good, I did not expect it to be great (but it is!). The Executive Suite is one of the most beautiful suites that I have ever stayed in and more importantly, I am glad I did not stay at the Waldorf Astoria Beijing after that dreadful Best Price Guarantee incident that I had. While the congestion on Third Ring Road is not something to look forward to, I have found the location of the property to be relatively good - it is only a short walk to Sanlitun and Guomao so there is plenty of restaurants to choose from and shopping to do. If you are looking for a luxury hotel in Beijing that will impress you in a non-ostentatious way, the Conrad Beijing is probably one the best choices in the city.
Conrad Beijing
29 E 3rd Ring Rd N, Chaoyang Qu, Beijing Shi, China, 100020
Website | Email