Getting from the Park Hyatt Siem Reap to Siem Reap International Airport (REP) took only 20 minutes on a car. However the Business Class check-in area for SilkAir is the same for passengers who have already completed internet check-in as well as KrisFlyer (and Star Alliance) Elite Gold. Therefore, you might be queueing in this 'premium line' for a bit. Anyhow, once you manage to get your bags checked-in, clearing immigration is a breeze.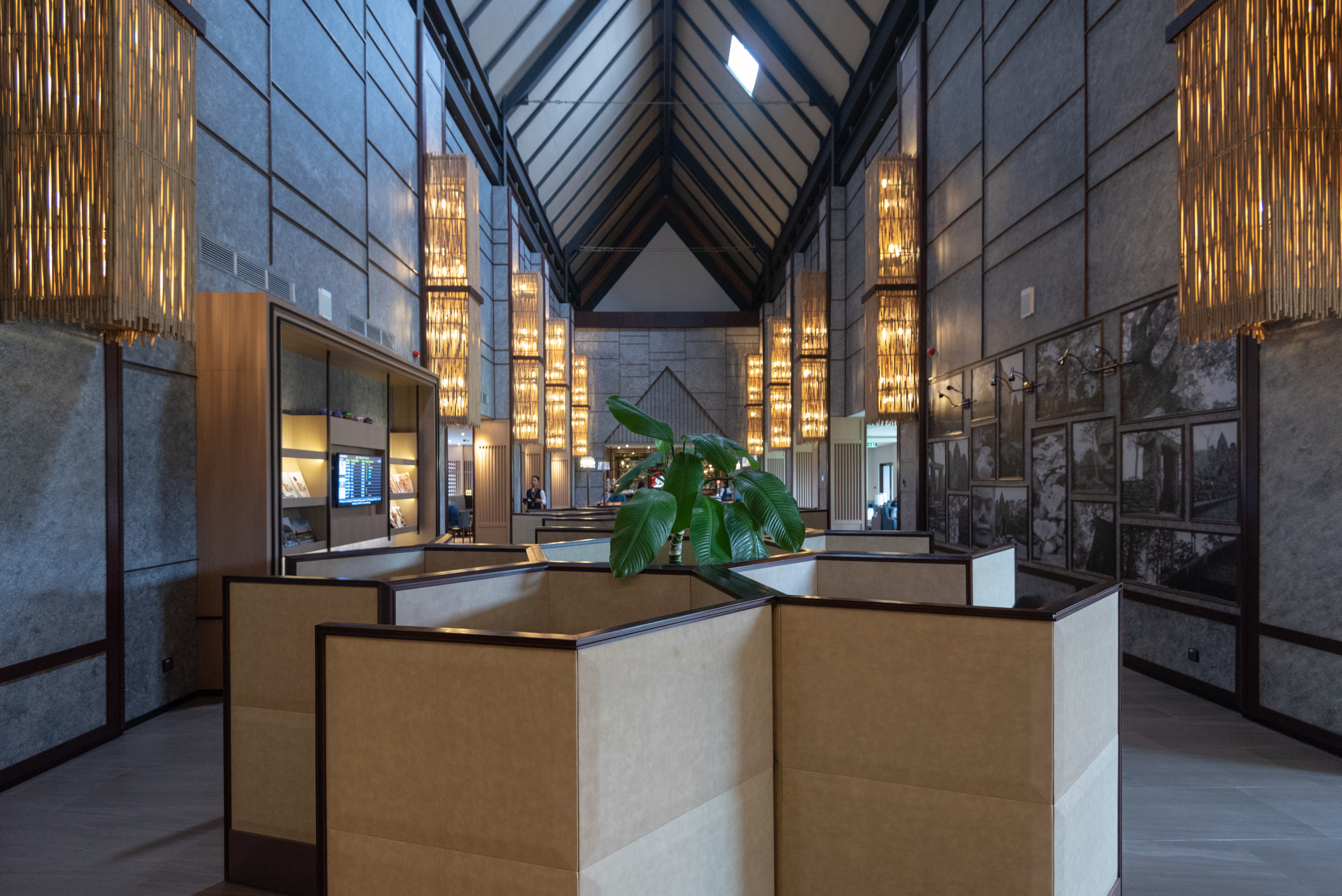 Siem Reap International Airport (REP)
Business Class passengers were amongst the first to board the plane and flight MI615 from Siem Reap back to Singapore is operated by a Boeing 737-800. There are currently plans to upgrade the Business Class seats on SilkAir to lie-flat seats before merging it under Singapore Airlines but that should take at least a couple of years. There are only 12 Business Class seats on SilkAir's 737-8 and they are all recliner seats. The Business Class cabin is configured in a 2-2 layout while the rest of Economy is configured in a 3-3 layout. To be very honest, if you are used to the Business Class standards on Singapore Airlines, the seats here in Business Class on SilkAir will probably feel like Economy to you.
The in-flight entertainment system on SilkAir basically allows you to stream selected programs and music to your personal device (e.g. your iPhone). However, if you are traveling on Business Class, you will find a tablet in the seat pocket in front of you - you will be able to use this for the duration of your flight but seriously, do you really want to use a Lenovo tablet? One thing I actually found annoying was that there was absolutely no way to pull up a flight map or a flight progress bar - maybe I am missing something but I have looked everywhere for it on the tablet.
Business Class seats on SilkAir's 737-8 have 38" of seat pitch and that is almost 27% more than the seat pitch back in Economy (30"). With that being said, if you are sitting on a window seat like I do, you will still need to trouble your neighbour to get out of his or her seat in order for you to step out (especially so if the seats in front of you are reclined!). The Business Class seats feature 22" of seat width and that is 29% more than the seat width back in Economy (17") - they are quite comfortable but definitely not as comfortable as what you would expect in say the Regional Business Class seats of Singapore Airlines.
Seat controls were also limited in Business Class but you are able to adjust the recline, lumbar support, leg rest as well as footrest on these seats. Honestly the controls felt a little bit counter intuitive so I actually left more of them alone but if you really have to fiddle around your seat for a two-hour flight, feel free to do so.
Despite being only a two-hour flight from REP to SIN, a light meal was served in Business Class - complete with proper cutlery and glassware. There was a choice of main course during this flight but no points for guessing which one I went with:
Nasi Lemak - Malay Style Coconut Rice with Chicken, Otah, Egg and Stir-fried Green Beans
Lamb Stew with Roasted Seasonal Vegetables, served with Rice and Peas
I was also semi-surprised to find the Slow Baked Abalone with Stir-fried Leek and Garden Salad as an appetiser. Honestly, the last time I was served abalone on a plane was on an international Japan Airlines flight in Business Class (and even then it was sliced!). A lot of people also commented about the Pandan Chiffon Cake dessert when I shared it on Instagram and interestingly, none of the passengers in Business Class actually touched it (possibly because none of them knew what it was).
Singapore Airlines is known for her garlic bread in Business and First Class - SilkAir shows some evidence of that beautiful garlic bread as well here in Business Class. It is nowhere near as fluffy and moist as the ones served on the sister airline but it is quite delicious as well.
Even though Champagne is not served on this flight, passengers traveling in Business Class will be able to enjoy a some wine to go along with the meal - you may also choose to keep your glass after the meal and the flight attendants will be happy to refill them for you over the duration of the flight.
Coffee and tea is served after the meal - I really like the small table by the side of the seat. I have not taken any photos of the universal power outlet and the USB charging ports here because it is simply impossible to do so without being awkward. As I have mentioned earlier, this may be a Business Class cabin but the seats are in no way comparable to those on Singapore Airlines. Every Business Class seat is equipped with a universal power outlet as well as a USB charging port on SilkAir's 737-8 so your devices can be juiced up during the flight.
As you can see in the photo above, the seat pitch is really not much especially after the seats in the row in front of you have reclined. Therefore, if possible, you really want to select the bulkhead seats since they offer more legroom.
While there is certainly more privacy and better F&B offerings in the pointy end of this flight, I will probably not fly on SilkAir Business Class again if I am trying to maximise my spend. Business Class on Singapore Airlines is immensely better than Economy (or Premium Economy) Class but the difference is marginal here. Do not get me wrong though - I did enjoy my flight but the additional spend is probably not justified in my opinion.