Airline: Japan Airlines | Aircraft: 737-800 | Class: Business | Flight: JL805 (NRT-TPE)
Using Alaska Airlines Mileage Plan miles to travel in Business Class on Japan Airlines is one of my favourite redemptions of all time. When I flew out of Narita International Airport (NRT) earlier this year, I took the opportunity to check out the Japan Airlines Sakura Lounge in Terminal 2 and was pleasantly impressed by the selection of food as well as the interiors of this airline lounge. While I do not typically like to use my miles for a Business Class ticket on a narrow body aircraft, I really wanted to fly down to Taipei after visiting Tokyo and as such, I actually redeemed for flight JL805 from Tokyo to Taipei.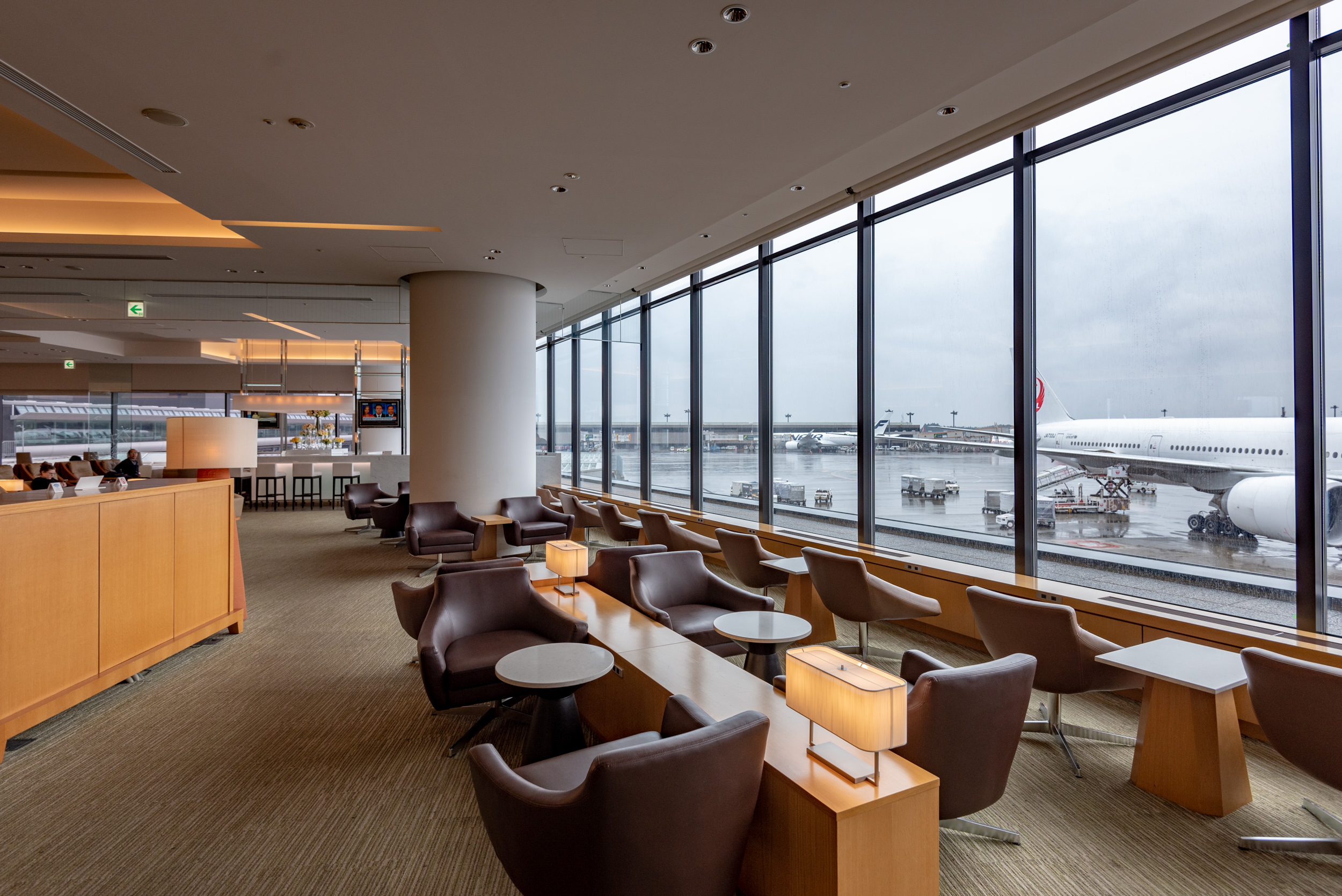 Japan Airlines Sakura Lounge
Narita International Airport (NRT)
Now the JL805 was not my first choice - Japan Airlines actually operate flights between Haneda Airport and Taipei Songshan Airport (which would have been closer to the city) but unfortunately, I was unable to find any availability on those flights. Having to depart from Narita International Airport meant having to leave the hotel earlier - I typically try to depart from Haneda Airport if possible since it is not only quicker to get to but significantly cheaper as well (if you are taking a taxi or an airport limousine bus). After spending over an hour in the lounge, I decided to make my way to the boarding gate in preparation for departure.
At the time of writing, JL805 from Narita International Airport to Taiwan Taoyuan International Airport is operated by a Boeing 737-800 (if you do not know your planes well, do not worry as this is not the 737 MAX 8). The Business Class cabin is arranged in a 2-2 layout (since this is a narrow body aircraft) and the seats here have a seat pitch of 38" (versus just 31" in Economy) as well as a seat width of 18.5" (versus 17.3" in Economy). There are a total of 20 recliner seats in Business Class as well as 145 Economy Class seats on Japan Airlines 737-800. The 737-800 plane that I was on featured the JAL SKYLUXE SEAT in Business Class and while it was in no way comparable to the SKY SUITE III Business Class seats that they have on medium and long-haul flights, they were a lot more comfortable than other J Class seats on say, SilkAir and Vietnam Airlines.
Being in Seat 1K meant having a little more legroom (since this is a bulkhead seat) and that made all the difference on this relatively-short flight. Inside the literature pocket located in front of the seat is where you will find a pair of disposable slippers as well as a disposable sleep mask that you can use during your flight. If you have flown on Japan Airlines previously, you will immediately notice the hideous red plastic bags that they provide headphones in - the quality of headphones was terrible and I highly recommend you bring your own.
The JAL SKYLUXE SEAT in Business Class offered limited seat controls as you would expect on a narrow body aircraft. In situations like these, I tend not to recline my seat since it may cause inconvenience to the passenger sitting behind me (it's also a 3-hour flight so you do not really need to recline your seat). However, if you are interested in seat controls, you will be able to adjust the recline, lumbar support as well as the foot rest from the four buttons next to your seat. Sitting in a bulkhead seat meant extra legroom and this makes a difference on a small plane like the 737-800.
Once the plane has left the ground, I decided to check out the in-flight entertainment (IFE) system. The IFE controller looks dated but it does come with buttons which I sometimes miss. Don't get me wrong though - I love a good touch-sensitive panel (even better when it comes with haptics) but manual controls translate into a lesser probability of failing typically (or at least one that is easier to fix).
Since I was sitting in the first row, the IFE screen was stowed away before the take-off and it can only be released once the seat-belt sign has been turned off. While the screen is tiny as you would expect, it is highly functional and I would definitely prefer this over having to stream content on a tablet like on my previous SilkAir flight.
As mentioned earlier, the headphones provided on this flight was terrible - they do not only look bad but the cheap construct of this headphones make it impossible to use them comfortably. Now this may be a 3-hour flight but Singapore Airlines actually provide a pair of solid headphones for regional Business Class flights. There is definitely room for improvement here for Japan Airlines but I do travel with my own pair of headphones typically so no dramas here.
Shortly after take-off, one of the cabin crew came around to take the meal orders for Business Class passengers. I decided to have one last Japanese meal before I arrive in Taipei so I picked that over the Western menu which featured a Japanese Beef Hamburg Steak with butter soy sauce. To start, I was offered a selection of beverages but I eventually asked for a junmai daiginjo recommendation that would go with my meal. I'm no sake expert but I certainly prefer the ones from Dassai which they serve on longer-haul flights.
Lunch service on flight JL805 consisted of a single meal tray with two courses - the first is a beautifully-presented bento box that came with exquisite dishes like simmered whelk, tuna sashimi, hijiki seaweed rolled with fried bean curd as well as a Japanese omelette. If you are not sure what the individual ingredients are, feel free to refer to the menu as the actual dishes are presented in the same layout which makes it easy to reference.
For the dainomono course, I was served a Grilled Greenland Halibut 'Yu-an' Style and well as a Deep-fried Pork with Teriyaki Sauce on the side. This course was also served with steamed Japanese rice (of course!) and a bowl of hot miso soup. I have always enjoyed the Japanese meals on Japan Airlines and this was no exception - every single dish was carefully presented and the flavours were executed beautifully!
While I would have preferred arriving into Taipei Songshan Airport over Taiwan Taoyuan International Airport since I was staying at the Mandarin Oriental, Taipei, my flight from NRT to TPE was excellent and I would not hesitate to fly again in Business Class on this relatively short flight (approximately 3 hours flight time).