After checking-in at the Business Class check-in counter (which Star Alliance Gold members can utilise as well), I proceed straight to the SilverKris Lounge in Terminal 3 of the Changi Airport. It is worth noting that if you do get sick of this lounge (why would you?!), you can actually utilise the other Star Alliance lounges here in Changi Airport (some of them are located in other terminals though) but honestly, I think the SilverKris is the best Star Alliance airport lounge you can get here in Singapore (if you are traveling on a oneworld airline, check out The Qantas Singapore Lounge).
While it wasn't my first time checking out the New Business Class product on Singapore Airlines (I did so back in 2015), it was my first time in the Business Cabin of the A350-900. This three-cabin plane offers 42 Business Class seats in the forward cabin in a 1-2-1 seat layout - Rows 11 to 18 are in the bigger cabin and Rows 19 to 22 are in the slightly smaller (and more private) cabin. While I generally do prefer to the latter cabin for privacy and generally less crowd, I avoided it this time on my flight from Singapore to Hong Kong as this is where the bassinet seats (Row 19) are in the Business Class.
The New Business Class seats on Singapore Airlines' A350-900 offers 60" in seat pitch and 28" in seat width (as compared to 32" and 18" respectively in Economy). While the seats are nowhere near as wide as the previous generation Business Class seats (e.g. the one I recently flew on to Beijing) which offer 30" in seat width, the seat pitch makes up for it. Now, it is very important to point out that this trip report was written from the standpoint of a traveller who was only required to be on the plane for under 4 hours. I understand that the Singapore Airlines' A350-900 has been criticised by many for having an awkwardly-angled seat (unless you are in a bulkhead seat) but for the entire journey that I was on this plane, it was amazing!
The flight was scheduled to depart at 9:55AM but boarding was delayed until 30 minutes later and the plane only managed to take-off at approximately 10:50AM. It is funny how Singapore Airlines was incredibly apologetic even though the delay was less than an hour - on the other hand, Air China was complete aloof about the whole situation despite being on the ground for over three hours on my recent flight from Beijing to Singapore). I was quickly escorted to my seat (14K) for the flight and upon sitting down, I was offered some juice and water - no Champagne was offered but mind you, this is a morning flight (not that I have any issues with drinking early though). The Business Cabin was at least 85% full on this flight and thus, I did not take that many photos since I did not want to intrude on anyone's privacy. According to the Seat Map that I saw on ExpertFlyer, the Economy Cabin was probably 95% full so I was definitely glad to be in the forward cabin. The New Business Class seats are incredibly beautiful and before Singapore Airlines unveil the new generation Business Class (as well as the much-anticipated Suites) seats for the Airbus A380-800 and A350-900ULR, this is definitely the best Business Class product the national carrier has.
The seat comes with two seating positions - the Lazy Z, which evenly distributes your weight so you feel like you are cradled, and the Sundeck, which is essentially a lounging position that makes you look rather sloppy but make you feel incredible comfortable. After the plane took off shortly, the cabin crew distributed some socks and slippers as well as the Singapore Airlines' 70th Anniversary Amenity Kit. You might notice that the colour of the bag from this flight (grey colour) is different to the one I got last month (black colour). In case you do not already know, these amenity kits are given to Business Class, First Class and Suites Class passengers only - this is a Singapore Airlines' 70th Anniversary special and it is definitely not a new standard (even though there are reports about Singapore Airlines surveying KrisFlyer members on the amenity kit).
Not only is the colour of the bag different (this is grey instead of black), the contents are slightly different as well. The amenity kit comes with a Crease Release Spray from The Laundress (similar to the previous version), a Fabric Fresh Spray, a Hand Sanitiser as well as a loofah (and a ziplock bag) - all held within a nifty little top-zip bag.
Another cabin crew then made his round to offer Champagne and a number of other beverages but who am I to turn down a glass of Champagne in the morning? The New Business Class seats on Singapore Airlines' A350-900 also comes with a small mirror for you to check out your Asian flush after a few drinks (and also so you know when to stop). There is also a small area above where the Champagne glass (I wish they served it in a flute instead though) where you can store some of your personal belongings like your passport, wallet and mobile phone (even during take-off and landing).
The handset onboard the Singapore Airlines A350-900's Business Cabin features a touchscreen and I believe it is identical to the one in Premium Economy (or even Economy?). I love how interactive it is and how easy it is to actually check out how much flight time is remaining (not that I minded since I was truly enjoying myself). You can easily flight through the different screens and control what you see on the brilliant 18-inch HD enabled personal LCD screen.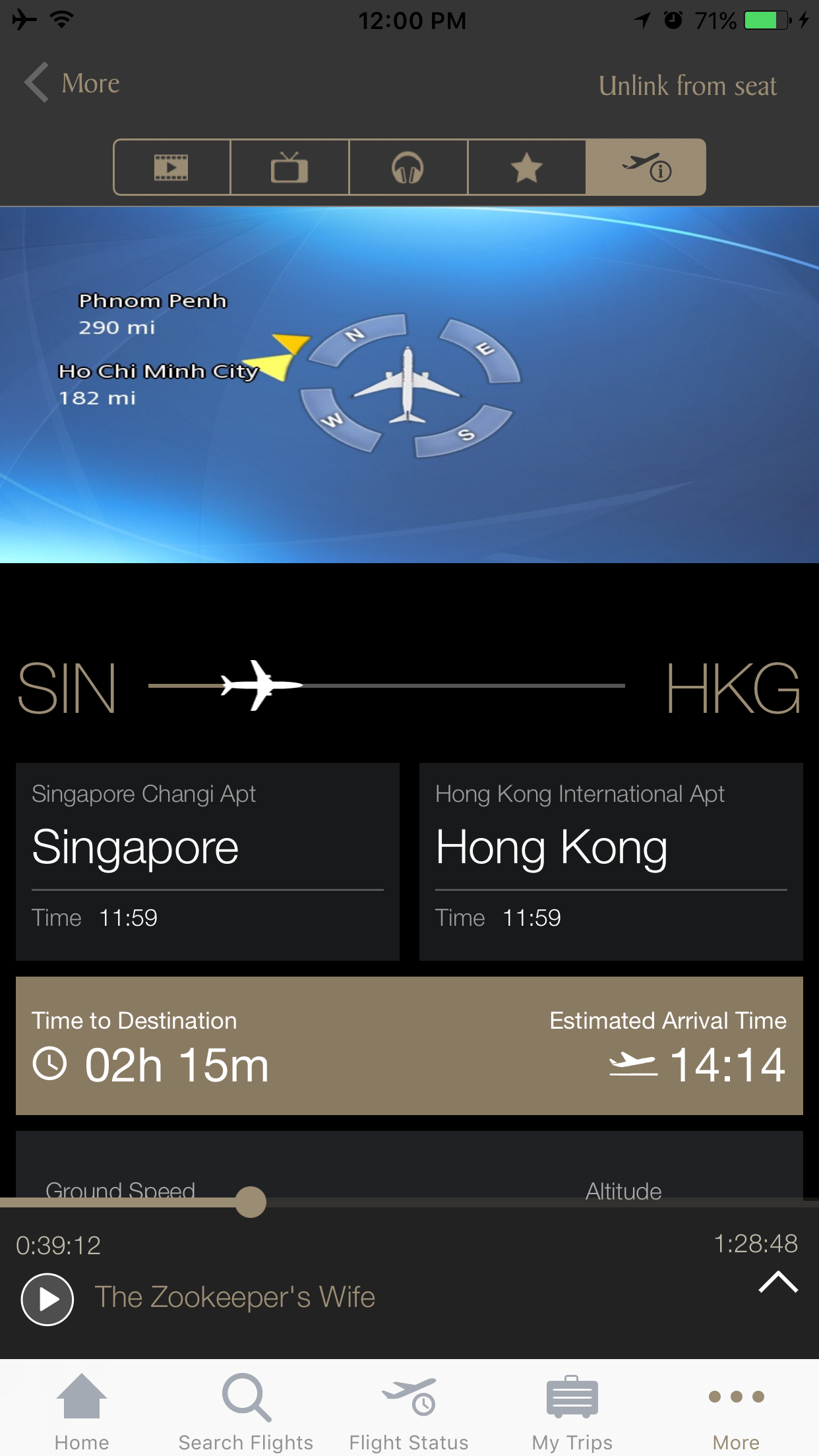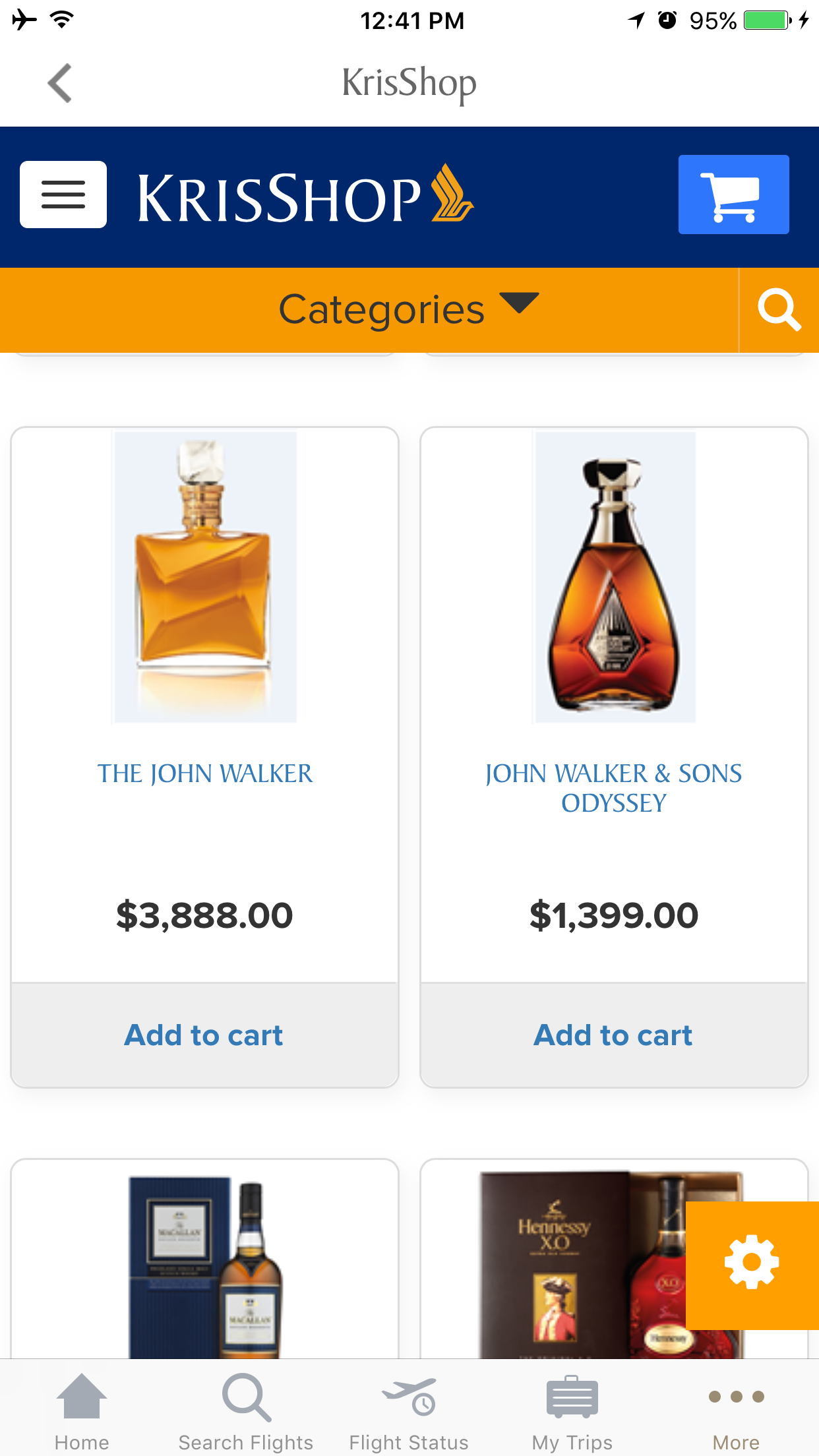 What some people do not realise however is that it is actually possible to open up your Singapore Airlines mobile app and link it to your seat on all A350 and selected 777-300ER planes (regardless of cabin class) - once you have done that, you can easily browse through the in-flight entertainment system, duty-free shopping catalog or even look at the flight path right from your mobile phone (or tablet!). While it is completely unnecessary since the handset is beautiful, it is a nice feature to have in the event you do not wish to switch between the devices (oh and unlike Air China, Singapore Airlines actually allows you to use your mobile phone in flight safe mode). WiFi is also provided on-board the A350-900 and this system is provided by Panasonic instead of OnAir - US$11.95, US$16.95 and US$21.95 for one hour, three hours and the full flight respectively.
While waiting for brunch to be served (more on this later!), I decided to check out all 11 buttons located on the side of my chair - there are five buttons that are dedicated to adjusting the chair to make your journey a whole lot more comfortable. While the seats in Business Class do convert into a 78" (198cm) fully-flat bed that is handcrafted from Scottish leather, you will not be able to do it while being seated. If you are not familiar with converting the seat into a bed, simply ask one of the friendly air stewardesses and they will help you with it. It also comes complete with linen, a duvet and an extra pillow so I definitely have to check out this product on a long-haul flight.
As mention in my previous trip report from Singapore to Beijing, the headphones provided in Business Class has been 'upgraded' to a much more solid one (that resembles the Bose QC35) - none of that filmsy Phitek-branded one that they used to provide. It is also worth noting that there are two headphone jacks located here in the Business Class seat - one is more suitable for a sitting position and one for a lie-down position. Underneath where the headphones are being hung, there is also a power outlet and USB charging ports (including one for power only) where you can use after take-off to charge your power-hungry devices.
Brunch orders were taken shortly after take-off and since I've decided to roll the dice with in-flight catering (as opposed to Book The Cook), I had the choice of one of the following mains (while catching up on Game of Thrones episodes from the previous season):
Pork and Century Egg Congee
Singapore Fried Carrot Cake
Vegetable Frittata
I actually got to enjoy some fried carrot cake (and Champagne!) in the SilverKris Lounge prior to my flight so I decided to go for the Pork and Century Egg Congee instead (also because Vegetable Frittata did not sound like what I wanted to start my vacation with as well).
After the table was set, the first course which is a small selection of sliced fresh fruits were served alongside your choice of juice - apple, orange or tomato (I decided to go with water to start). Unlike my previous flight on Singapore Airlines' A380 Business Class, a white table cloth was actually laid out prior to serving the dishes so the previous experience was probably an issue with catering. I also got another glass of Champagne to go with breakfast and since it was a relatively full flight, someone else has already requested for Champagne before me so I did not have to make them open a brand new bottle (and look like an alcoholic).
The famous garlic bread (which Ben from OMAAT claims to be the best in the sky) is not available during breakfast and brunch service but the croissants when served warm, are delicious as well. There were a number of other soft rolls and pastries from the basket but I decided to just stick with one in order to not overeat (something I do very often unfortunately). On the side, salted (hurrah!) butter and a small jar of jam from Bonne Maman is served.
I was offered some cornflakes and granola after my first two courses but I decided to skip it and get a natural Greek-style yoghurt instead. I wish I had some honey to go along with it (even though I probably could have gotten some if I had asked) and that would have been perfect but I thought that Champagne would probably not mix well with dairy product so I picked one over the other - I did not finish the yoghurt.
Even though i was really craving for a pipping hot bowl of Singapore Laksa (which I probably should have ordered via the Book The Cook service), I ended up with the Pork and Century Egg Congee (served with Chinese crueller - you tiao - on the side) instead. While the quality is definitely nowhere near what you can get in a proper Cantonese restaurant (and I do not expect it to be), it is definitely a novel experience to have this 41,000 ft in the air.
For dessert, a Summer Peach Chantilly Cake was served and I ordered a cup of illy double espresso to go along with it. I did not expect much but that cake was absolutely delicious - fluffy, light and refreshing! Brewed coffee and tea is served right the meal trolley but you can always request for an espresso-based coffee instead (just one of the many perks of flying in the Business cabin!).
You know how passengers are always advised to switch on the reading light during take-off and landing (since the cabin lights are dimmed) if required? Well, you will have three different buttons here (even though only one is applicable during take-off and landing) - one for reading in bed, one for reading upright and one for reading when you are in your Lazy Z position. Seriously, try all the buttons - it is ridiculous (in a good way I guess) that you are able to adjust lighting to this extent on a plane!
Despite departing Singapore almost an hour late, the plane arrived into Hong Kong at 2:16PM (STA: 1:55PM) which is only approximately 20 minutes later than the scheduled time of arrival - pretty impressive! While 3.5 hours is probably not the best way to experience the A350-900 New Business Class product (or any Business Class product to be exact), it was definitely an extremely comfortable one. More importantly, being able to get this for just 27,500 KrisFlyer Miles is just incredible - it isn't the best way to use your miles but you are already much better off doing this than using a cashback credit card.
Singapore Airlines is expected to unveil a brand new Suites Class product that will feature a 1-1 seat layout (as compared to 1-2-1 currently) and according to what we know, it is most likely to take flight at the end of the year from Singapore to Sydney. The flag carrier of Singapore is also expected to release a new Business Class product (for the Airbus A380-800s and A350-900ULRs) as well as a new Regional Business Class product in the near future (check out more airline reviews while you wait) so there are plenty of things to look forward to in the coming months ahead!